Everything to plan this iconic 1 day hike in Torres del Paine, Chile with incredible views of Paine Massif (The Blue Towers) and Lago Torre.
People often ask if it's possible to do any one day hikes in Torres del Paine, especially if for one reason or another they can't do the multi-day O or W Circuits. We spent a number of days in Torres del Paine and did a few shorter hikes, including this one to the base of Las Torres, which is probably the most iconic of the region. (Click on image above to watch reel showing some of it.)
The hike to Base las Torres is included in both the O and the W circuits (multi-day hikes in Torres del Paine National Park.) This trail is a must if you are visiting and an opportunity to immerse in an array of terrains and wonderful ambients. We had all the seasons in a one day hike, as well as unforgettable views of the famous Blue Towers and the dazzling turquoise Lago Torre.
click on image for hike highlights video
Disclaimer: this blog post contains general information, on an 'as is' basis, for
discussion purposes only. Readers use this information at their own
risk. Some of the links in this article feature affiliate links which means we
gain a small commission if a purchase is made (no extra costs your
end.) We only include links to products that we buy, use and would genuinely recommend ourselves. Thanks in advance for your support 🙂
Hike Overview - The Headlines
This was an incredible hike and we would definitely recommend it.
For seasoned hikers, it's a moderately challenging route, although there is a steep ascent in the first and last leg. We would definitely recommend hiking poles and that anyone who wishes to hike at sunrise goes to the Welcome Centre the day before to check the weather conditions and safety considerations (e.g. ice on the rocks for the last leg due to rainfall the night before).
If you don't hike much, be ready to challenge yourself, but we still think in the months without snow, there is no need for a guide. It is essential to stick to the trail at all times to maintain safety.
The weather is definitely a thinking point to consider before you plan your trip due to its volatility. (See 'When to Go' for more info on this.)
We completed the hike in late March 2023 and were lucky to find a calmer weather window (using windy app) with sunshine and lower winds. The information below is based on hiking around that time.
You must purchase entrance to Torres del Paine National Park online and 24 hours before you enter, to ensure you are sent your online ticket. This will be checked at the entrance on the day you arrive. You can purchase it here.
Puerto Natales is the nearest city to Torres del Paine and is the place most people visit or stay before heading into the National Park itself. Without a personal vehicle, transport can be be arranged to the National Park in Puerto Natales. Ensure to book well in advance, especially if travelling in the summer season. 
We had all our hiking gear with us, so didn't rent. Always check reviews before renting, but this was one place that we heard of in Puerto Natales. There are also many outdoor gear shops in Puerto Natales for any last minute purchases, but obviously no guarantees to find the items you need.
The route is very well signposted and frequented, so solo hiking is definitely an option.
After March and into the winter months, entrance to the trails may only be permitted with a guide and subject to restrictions due to snowfall and general safety. Ensure to check this.
We started at 8.00am and some of the early buses had arrived with fellow hikers already. The sun was up and the mountains were already glowing. If we went again, we would have left about an hour earlier to avoid the quantity of people.
There is one campsite along this trail called El Chileno Camping. We had a campervan, so didn't need somewhere to stay, but if hikers need somewhere to stay there are tents, camping pitches and hostel beds here. Booking way in advance (months) would be strongly suggested due to limited spots and other hikers trying to plan their O and W Circuits. More info here. There is a restaurant there for snacks and the opportunity to use the toilet for 1,000 Chilean Pesos (US $1.20).
Ensure to follow Leave No Trace principles, especially if going to the toilet in the woods.
Top Tip: The weather in Torres del Paine is highly unpredictable and the winds can be incredibly strong. It is hard to plan around this apart from aiming to visit at the time of year when weather is preferable. The best thing is to plan with variable weather as a probable. 
Bear in mind that sunset and sunrise times in Patagonia vary dramatically with the time of year, so making your first stop at The Welcome Centre upon arrival will help obtain their useful and current updates on routes, weather and safety. Registration with the Welcome Centre in person before the hike is compulsory. 
November to March is summer and the most popular time for visitors. These are the longest days and the warmer temps, but also the windiest of the year. (Average 18ºC)
March to June is autumn and a very colourful season to visit. Days are generally cooler temps and there may be snowy days. The terracotta and ochre had already set in and it was very scenic. (Average 13ºC)
Planning the right day for the hike really helps. We did the hike right at the end of March and it had snowed two days beforehand. We needed to check what the Welcome Centre recommended in terms of the best day to hike so it wasn't icy and scheduled it accordingly. 
We heard through the grapevine that some tried to do the hike without a guide just after we left in April and couldn't gain entry. It is always worth checking visitor information before booking any tickets. Find out more info on visiting during other seasons here

.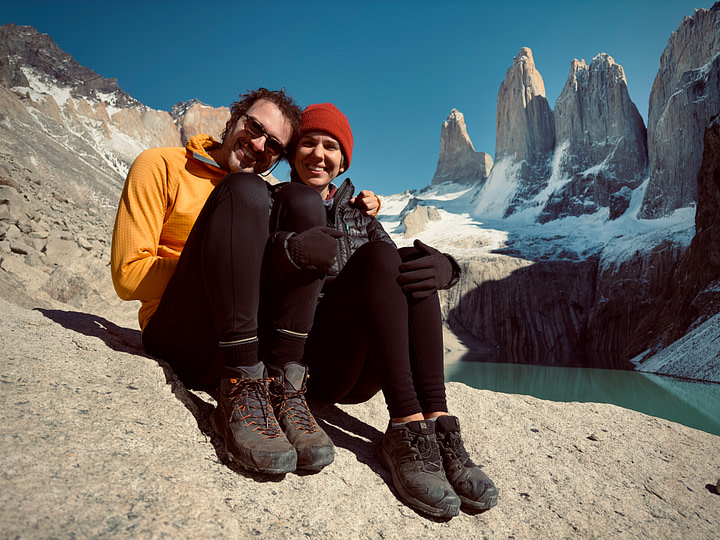 When we left at 8am it was in the minus temperatures and we had our down jackets, buffs, hats and gloves on.
As the trail starts to incline within the first 20 mins, it wasn't long before we already needed to put our jackets and hats/gloves in our bags and prepare for more of a challenge. Below is an overview of the timeframes of our trek.   
Departure from Welcome Centre: 8 am
Ascent begins: 8:30 am
Enter Valle Ascencio (main valley): 9:45 am
Pass through Chileno Camping: 10:15 am
Inclination to Mirador Torres begins: (rocky, more challenging section): 11:00 am
Arrival to Mirador Torres: 12:15 pm 
Lunch, enjoying the view and photos 
Leave Mirador Torres: 2:30 pm
Pass through Chileno Camping and toilet stop/rest: 4:15 pm
Arrival to Welcome Centre: 6:20 pm
Download our Base las Torres hike
GPX file to help with offline navigation.
Top Tip: The gear to take will depend on the time of year and recent weather conditions. Below are some considerations, including a downloadable packing checklist and our top gear picks. Always pack with variable weather in mind. 
Whether you are experienced or beginner, we still recommend bringing hiking sticks. They will help with the ascent/descent, and will certainly make your hike safer, especially if it's wet or icy. At least 1 per person is recommended.
We took 1 38L Backpack and 1 18L backpack with us. We didn't take a mattress, but really wish we did for chilling on the rocks when arriving. We spent over an hour up there for lunch and a lightweight foldable mattress (like the Thermarest below) would have been great for comfort. 
We had the below insulated jackets and fleece leggings and are so glad we did. Even thought it was sunny and we could take our layers off quite soon into the hike, higher up was fresh from the snowy mountains already and we were very cosy with our jackets. 
Sunblock is essential in these latitudes as the sun is really strong, even if cloudy.
The toilets at El Chileno Camping can be used at a cost ($1.20 US). Remember to bring your leave no trace poop kit.
Food wise, we had a big meal the night before and a porridge breakfast before we left. We took 4 boiled eggs, chicken wraps, 4 apples and 4 cliff energy bars. The kitchen at Chileno Camping apparently closes at 5pm, so it's possible to order from there before that, but there is no guarantees in terms of what they have on offer.
Download your free packing checklist for Base las Torres!
Wishing you an unforgettable hike and let us know if you have any questions!