We visited Parque Nacional los Glaciares (Glacier National Park) in the Argentinean region of Santa Cruz mid February. Catching sight of the incredible Perito Moreno Glacier and completing a 3 day hike around the Fitz Roy & Cerro Torre mountain ranges. Anyone who loves to climb or hike as much as we do will appreciate the excitement and gratitude we felt being in these places.
An experience like no other, we arrived at Glaciar Perito Moreno first thing in the morning, just to have it all to ourselves. We were met with mist looming and intermittent rays spraying through the clouds. Acres of ice winding down the valley, thunderous cracking, crunching, and echoing met our ears as we sat there sipping our breakfast tea.
As we watched, dramatic shards tumbled down into the lake, crashing into the water like giant whales' tails. We were silent for much of this trip, where we spent a lot of time just taking it all in.
Time in Patagonia is planned around the weather, keeping a lookout for windows of sunlight and lower winds. We were really happy when we realised there was going to be a week long weather window to hike the Fitz Roy/Cerro Torre ranges near El Chaltén.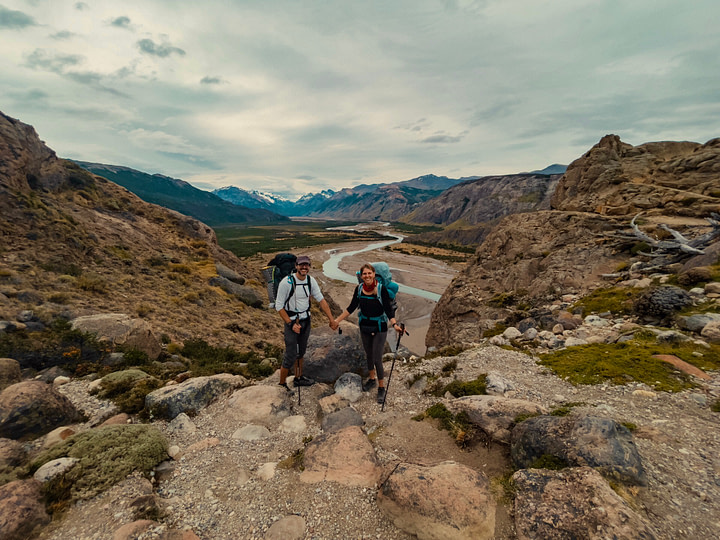 Over 3 days, we hiked 48km, wild camped in our tent, and saw some of the most epic views. When we got to Laguna Torre on the final day, it was the colour of cappuccino and filled with fragments of icebergs called Tempanos – Theo decided he'd go and have a dip (the whole beach was watching and cheering!). There are so many hikes in this area, but we are very glad that we managed to find the right conditions to do did this. 
Interested in doing this hike yourself? We would definitely recommend it. Check out our Giants Trail Guide: Everything to plan this 3 day hike in El Chaltén, Argentina, with views of Fitz Roy, Cerro Torre and Glaciar Grande.