Patagonia, the cherished cornerstone of our year-long journey, is framed in our rear view mirror. So what followed?
As we travelled north, a new side of Argentina was revealed. We roamed the Mountains of Seven Colours in Jujuy, and experienced golden hour at the Salinas Grandes salt flats, before travelling a three day journey down to the border with Brasil.
After covering 2,822 miles/4542 kms in a month and having reached Patagonia already, were we tired, homesick, or was it just what we needed? Read on to see….
En route to the Hill of Seven Colours, Jujuy
Despite feeling something like 'distance fatigue' by mid June, we still had the will to keep going. By now, even the knowledge that one route up north was a road and the other was a dirt track had no influence on our decision – we are experienced 🙂
We continued up one of them as far as Quebrada de las Conchas (Cafayate Gorge), a magnificent array of red sandstone cliffs and rock formations that have been shaped by wind and water erosion. Just a few steps and we were engulfed by a vast arena of pinks, reds and coppers telling the (colourful) stories of stratum spanning millions of years.
After Quebrada, we continued up to Purmamarca – home to El Cerro de los Siete Colores (The Hill of Seven Colours). This was a pastel coloured village, with houses made entirely from the mud and sandstone of the mountains which embrace it.
Many Argentinians in this region have Quechuan heritage (indigenous peoples of the Andean region with Inca connections) and the food and rich culture is exciting. Purmamarca was the first time we saw Llama offered as an option on the menu in Argentina, heard panpipes being played on the streets and saw the colourful Quechuan embroidery we remembered from previous trips to Peru and Bolivia. This was a big contrast to the south of Argentina and we really enjoyed being back in the Andes as we knew it.
Argentina's Salt Flats: Rising High in Salinas Grandes
The furthest up north we got to in Argentina eventually was Salinas Grandes towards the end of June, passing altitudes of a staggering 4,500 meters en route. These are the Argentinian Salt Flats, where a prehistoric lake once lay, soaking up the minerals from the surrounding mountains. It has since evaporated, leaving behind an enormous expanse of salt, with minerals such as sodium, potassium and lithium within it.
The Bear (our trusted campervan) chugged its way up the altitudes, foot heavy on the accelerator and bunny hopping the steep curves in first gear. We passed through golden valley after golden valley and carried on until sunset, when suddenly we were hit with it. Shimmering grains of salt in every direction and not another soul there with us.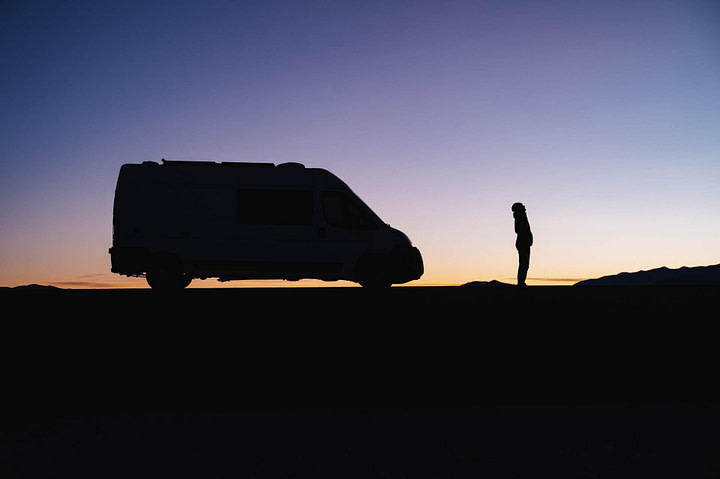 We mustered ourselves up and out for sunrise the next morning and braved a run to embrace the expanse of it. It seems The Bear was not the only one struggling to function in the rarefied air of these altitudes. Less than a minute and we were completely out of breath!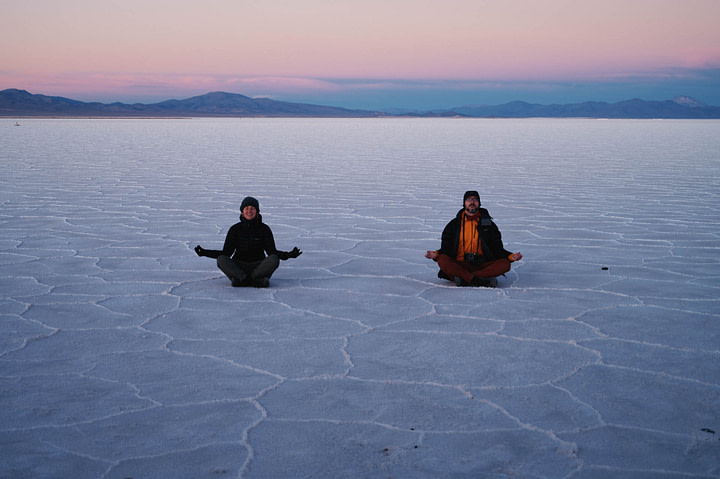 It was worth it though, even if just for the brilliant white planes surrounding us, replenishing our energies. Red nosed and gloved up in the minus temperatures, but feeling warm in this endless space.
Recently, things we miss have peppered conversations. Friends, family, space, routines. Not 'the old life' we left behind, but certain aspects of it. There was some type of tiredness that also set in. The long motorway journeys, the rising levels of heat. In Patagonia it felt impossible to be 'mountained out,' but motivation was ebbing.
Regardless, something kept us going. What was that thing? Fear of missing out? That insatiable wanderlust which inspired us initially? Or maybe just the innate human desire of needing to finish what we started. There is undeniably a satisfaction of being able to say we made it!
One thing's for sure – the wonders of Argentina are endless. There were indeed some minor roadblocks recently, but the bigger picture won it. We imagined something and we created it. Now we're leaving this gem of a country with some great memories of the northwest. The warmth of the people, the majestic beauty. We'll miss you SO much Argentina.
Now on to Brasil!