Argentina's ski capital – San Carlos de Bariloche is a city in the south of the country that sits on the banks of Lake Nahuel Huapi. At this time of year (February), the nearby peaks of Frey aren't snow capped – it's summer in the western hemisphere and the average temperature is around 26ºC.
The great weather at the start of the year has leant to a tour of the lakes in the region of Rio Negro and provided us with a chance to connect with nature on a number of levels.
There are many flowers growing in parts of Patagonia, so it's a daily occurrence to be surprised with scenes like this sea of lavender (above) and rainbow lupins (below) we happened upon in Serro Chapelco. Back in Surrey, UK, we were regulars at RHS Wisley and many of the species we saw cultivated there, we have spotted growing wild here – it's been really great exploring.
We stayed with a friend in San Martín de los Andes who bathes in the cold River Quilquihue by his house every day (even in the winter months when the water is freezing!) Whilst we were there, we got inspired to join in and Theo particularly has made it a daily practice. As we've been roaming, there have been many lakes and rivers to swim in. Patagonia is a great place for cold, wild swimming.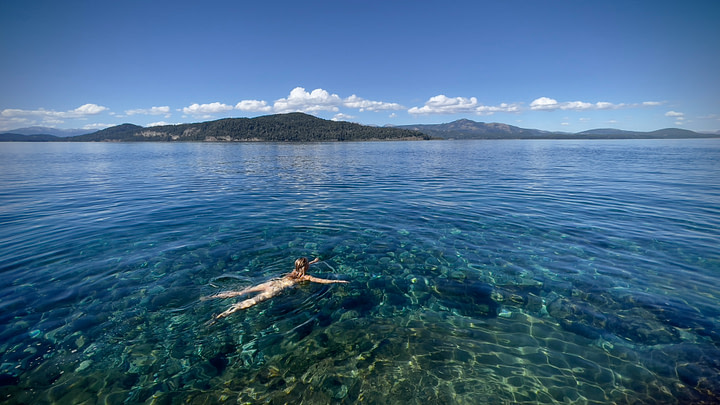 We have definitely both felt the positive and addictive effects of swimming in a cold lake in the morning (mood boost, state change, jump start) and have even managed to get some of our friends to join in. On the days we can't swim, we at least do Wim Hof's 30 second cold shower challenge.